(

minviendha
Nov. 14th, 2011
10:32 pm
)
Fandom:
Supernatural
Medium:
TV Show
Subject:
Castiel
Title:
White Feathers, Strange Lights
Notes:
So this is mostly "Castiel in S5" mix, and I made it as a sort of counterpoint to
the Ruby mix
I made a while ago. Pretty short, by my fanmix standards, but I'm somewhat pleased by it anyway. It has some undertones of Dean/Castiel (hahaha) but I tried to focus mostly on Castiel, particularly the arc with his faith. (That is, losing it.)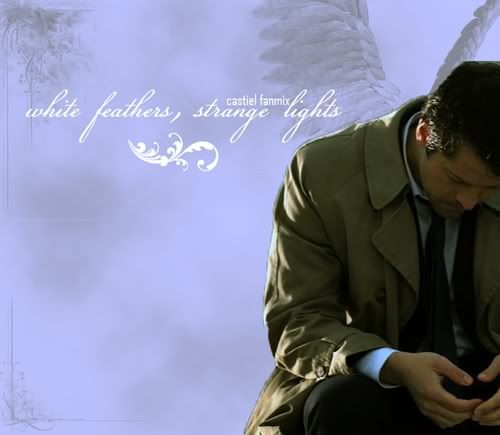 .ZIP FILE HERE
-empire.dar williams
Who's afraid of the sun?
Who would question the goodness of the mighty?
We who banish the threat,
When your little ones all go nighty nighty?
Well there's no time for doubt right now,
And less time to explain.
So get back on your horses,
Kiss my ring,
And join our next campaign,
†
-the beautiful ones.the battle of land and sea
we are the beautiful ones
turn our backs to the cold winds
they'll never hear from us again
†
-the truth beneath the rose.within temptation
Give me strength to face the truth, the doubt within my soul
No longer I can justify the bloodshed in his name
Is it a sin to seek the truth, the truth beneath the rose?
Pray with me so I will find the gate to Heaven's door
†
-the world.see-saw
The fields are filled with desires
all voices crying for freedom
but all in vain they will fade away
there's only you to answer you, forever
†
-white feathers, strange lights.whitley
Holding my hand like a script in a picture,
and holding my wrist like you're choking death,
The look in your eye speaks like ages of life
†
-stare at the sun.thrice
Cause I am due for a miracle
I'm waiting for a sign
I'll stare straight into the sun
And I won't close my eyes
Till I understand or go blind
†
-icarus wind.thea gilmore
It's the Icarus wind, it's blowing in my eyes
It's the Icarus wind, it's telling me those lies
And it's heart is like ice and it's fingers are long
And it knows just who'll be torn apart by that windsong
†
-believe.the bravery
So give me something to believe
Cause I am living just to breathe
And I need something more
To keep on breathing for
So give me something to believe
†
-abandoned.kamelot
Once my life was plain and clear
I recall
Once my ignorance was bliss
Nightfall came
Like a serpent's kiss
To my troubled mind
†
-devil by my side.david usher
And you opened me wide,
'Cause it's cold in there and it's warm outside,
Hard when you realize that you'll never have what you're trying to find.
†
-our wings are burning.virgin black
On the crest of fire
Our wings are burning
To the wind's anthem
All is lost but hope
†
-pale blue eyes.velvet underground
Linger on, your pale blue eyes
Linger on, your pale blue eyes
†
-where are we going from here.blackmore's night
Lines on my face, lines on my hands
Lead to a future I don't understand
Some things don't go as they're planned...
Where are we going from here...
†